The most common languages ​​in the world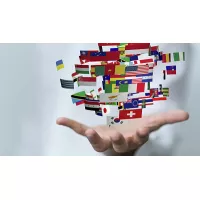 About 66% of the world's total population speaks the forty most common world languages. Taking into consideration that there are 6,703 "living" languages in the world today:
2,165 in Asia (32%)
2,011 in Africa (30%)
1,302 in the Pacific (19%)
1,000 in America (15%)
225 in Europe (3%).
Only one Mandarin Chinese is spoken by 15 percent of the total population of the Earth.
| | | | |
| --- | --- | --- | --- |
| N. | Language | Main territory | Number of speakers |
| 1. | Chinese, Mandarin | China | 885,000,000 |
| 2. | Spanish | Spain | 332,000,000 |
| 3. | English | United Kingdom | 322,000,000 |
| 4. | Bengali | Bangladesh | 189,000,000 |
| 5. | Hindi | India | 182,000,000 |
| 6. | Portuguese | Portugal | 170,000,000 |
| 7. | Russian | Russia | 170,000,000 |
| 8. | Japanese | Japan | 125,000,000 |
| 9. | German | Germany | 98,000,000 |
| 10. | Chinese, Wu dialect | China | 77,175,000 |
| 11. | Javanese | Indonesia | 75,500,800 |
| 12. | Korean | Korea | 75,000,000 |
| 13. | French | France | 72,000,000 |
| 14. | Vietnamese | Vietnam | 67,662,000 |
| 15. | Telugu | India | 66,350,000 |
| 16. | Chinese,the dialect Yu | China | 66,000,000 |
| 17. | Marathi | India | 64,783,000 |
| 18. | Tamil | India | 63,075,000 |
| 19. | Turkish | Turkey | 59,000,000 |
| 20. | Urdu | Pakistan,India | 58,000,000 |
| 21. | Chinese,Ming Nan dialect | China | 49,000,000 |
| 22. | Chinese,Jinyu dialect | China | 45,000,000 |
| 23. | Gujarati | India | 44,000,000 |
| 24. | Polish | Poland | 44,000,000 |
| 25. | Arabic,Egyptian pronunciation | Egypt | 42,500,000 |
| 26. | Ukrainian | Ukraine | 41,000,000 |
| 27. | Italian | Italy | 37,000,000 |
| 28. | Chinese,Xiang dialect | China | 36,015,000 |
| 29. | Malayalam | India | 34,022,000 |
| 30. | Chinese,Hakka dialect | China | 34,000,00 |